Nearest club events
Major events in March 2020
6 March  Celebration of the International Women's day
VIC F1001 15:30 – 17:00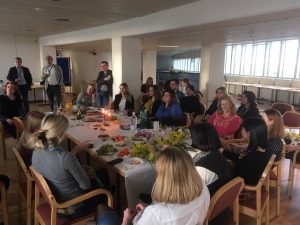 Major event in January 2020
"Old New Year"
Traditional Russian celebration
13 January 2020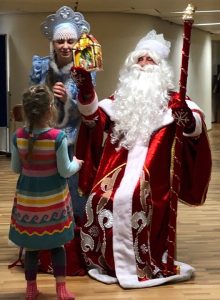 Russian performance and Russian table at New Year Party of the IAEA department of Nuclear Energy
17 January 2020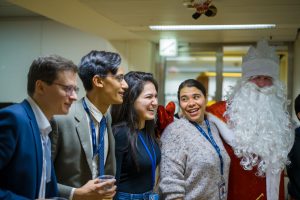 Major event in October 2019
8 October 2019 17:00-19:00 VIC F1001
VIC Russian Club event to mark 65th anniversary of the First in the World Nuclear Power Plant, Obninsk, 1954, Russia/ USSR
Poster Russian Club event 8 October 2019 – 65 years of the First in the World Nuclear Power Plant Obninsk-1954.pdf
Only for the staff and family members of the VIC based organisations and participants of the first International Conference on Climate Change and the Role of Nuclear Power, 7–11 October 2019, Vienna, Austria
Opening statements by the representative of ROSATOM State Corporation to the international
Organizations in Vienna Mr Alexander Bychkov, former deputy director general of the IAEA
Honouring the first operator of Obninsk NPP, IAEA veteran Mr Vladimir Shmelev
A small concert of Russian musicians, winners of international competitions
Traditional and very typical Russian drinks and snacks will be served
Earlier events and club parties:
8 May 2019, VIC F1001                16:00–20:00  VIC Russian Club event to commemorate the 74th anniversary of the End of World War II in Europe and celebrate the Great Victory Day
-Opening statements,
Vice Permanent representative of the Russian Federation to the international Organizations in Vienna Mr Daniil Mokin
Deputy Director General of the IAEA, Head of Nuclear Energy department Mr Mikhail Chudakov
-A small concert of Russian musicians with the songs of the WWII era: Lomonosov Moscow State University choir and «April» Choir of the Perm scientific manufacturing instrumentation industry enterprise, Perm, Russia
-Traditional and very typical Russian drinks and snacks associated with the World War II period will be served.
Poster: Russian Club event 8 May 2019 1600 F1001
9 May, VIC Rotunda             Russian Day 
                                                  in the Framework of Russia China Culture Week 6-10 May 2019
organised by the VIC Club of Russian Art and Literature, the Association of Chinese Culture in Austria, the Austrian Roerich Society – National Committee of the Roerich Pact, and the International Roerich Centre (Moscow), with the support of the Permanent Mission of the Russian Federation to the International Organisations in Vienna.
Dedicated to the:
74th anniversary of the End of World War II in Europe and the Great Victory Day 9 May 1945
  70th anniversary of the establishment of diplomatic relations between the Russian Federation and the People's Republic of China, 
  40th anniversary of the Vienna International Centre (VIC)
  145th birthday of Nicholas Roerich on the eve of the 85th anniversary of the Roerich Pact – the first international treaty for the protection of cultural heritage in peace and wartime.
This day is directly linked to the UN System, its history and its basic principles. The UN "was founded after the end of World War II by the victorious allied powers with the hope that it would act to prevent and intervene in conflicts between nations and make future wars impossible or limited…The anniversary of the end of the Second World War holds special importance for the United Nations. The war shaped our mission, and its lessons guide our work" (UN Secretary-General BAN Ki-Moon).
 12:00–14:30                Celebration ceremony. Welcome refreshments will be provided
Opening statements (starting at 12:30):
Mikhail Ulyanov, Permanent Representative and Ambassador of the Russian Federation to the International Organizations in Vienna
Qun WANG, Ambassador, Permanent Representative and Ambassador of China                                        to United Nations and other International Organizations in Vienna
 Martin Nesirky, Director, United Nations Information Service Vienna (UNIS)
 Peter Harold, President, Austrian Society for Cultural Property Protection, General, Brigadier
 Pascal Abb, Senior Researcher, Austrian Study Centre for Peace and Conflict Resolution
Presentation of the Exhibition "Peace through Culture" dedicated to the history of the Roerich Pact, International panel discussion "Cultural heritage along the Silk Road" 9 May 14:00 C3, 7th floor C and Round Table discussion "Russian as a World Language" 10 May 11:00-17:00 C5, 7th floor C
Performances:
Academic Choir of the Lomonosov Moscow State University choir and MSU orchestra, Moscow, Russia
«April» Choir of the Perm scientific manufacturing instrumentation industry enterprise, Perm, Russia
«Kalinka» Folklore ensemble, Vienna, Austria
Welcome reception sponsored by the Permanent Mission of the Russian Federation to International Organisations in Vienna
Poster: Russian Day 9 May 2019 12.00 Rotunda VIC
Traditional Russian Club parties
-Old new year party 13-14 January
-8th March  – International Women's Day
-9th May  – the Great Victory day